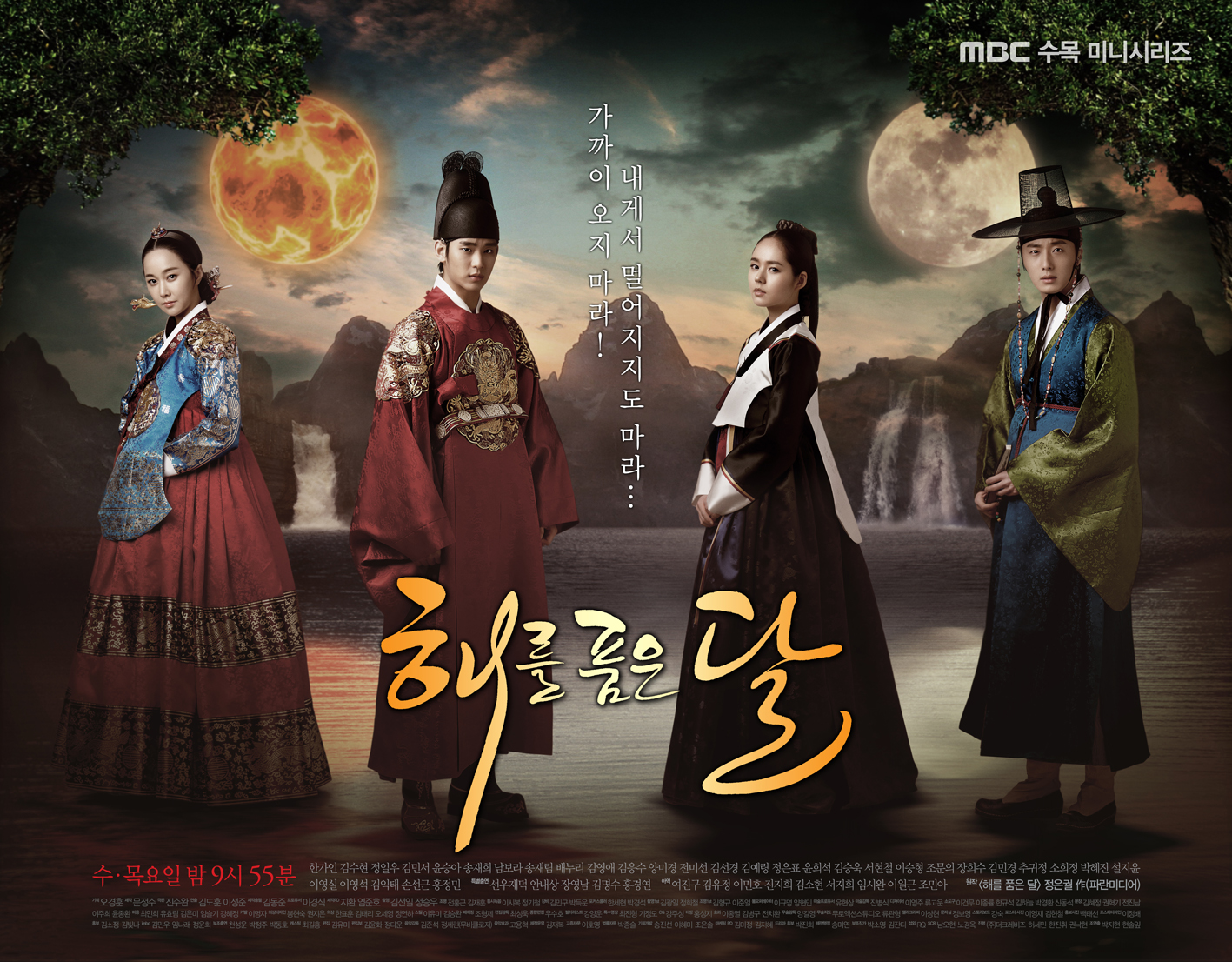 Título:
해를 품은 달 / Haeleul pum-eun dal
Anteriormente conocido como:
The Moon Embracing the Sun / The Sun and the Moon
Género:
Romance, Fantasia, Historico, Drama
Episodios:
20 + 2 Especiales
Cadena:
MBC
Período de emisión:
04-Enero-2012 al 15-Marzo-2012
Sinopsis
La historia del amor secreto entre Lee Hwon, un rey ficticio de Joseon, y Wol, una mujer chamán. Wol nació como Heo Yeon Woo, la hija de una familia noble que ganó el amor del príncipe heredero, Hwon. Sus enemigos, celosos de la posición de su familia en la corte, conspiraron contra ella y huyó lejos de su legítimo lugar como princesa de la corona y casi se quita la vida. Años más tarde, un amargado Hwon se reúne con Wol, ahora una mujer chamán que no tiene ningún recuerdo de su pasado.
Opinión Personal
Kim Soo Hyun, Kim Soo Hyun....
y la multitud se enardece
.... oh, caray creo que he dejado que mi
pasión e imaginación vuele demasiado. pero en fin ya no es un secreto que Kim Soon Hyun es algo así como mi amor platónico, el padre de mis futuros 12 hijos XD si 12....
Debo decir que inicie a ver el drama por el simple hecho de que K.S.H es el personaje estelar, pero una vez que la trama fue tomando cuerpo que empezaron a suceder cosas interezantes y a aparecer trabas en el camino de los protagonista, ya no pude despegarme.
La historia narrada aqui es la de dos niños que se encuentra una tarde y al parecer solo eso basto para enamorarse, ella es la hija de un hombre importante en la sociedad mientras que el es el futuro sol (REY) pero ella no sabe de su posicion y cuando se entera se encuentra un poco temerosa de lo que le pueda pasar por haber ofendido al futuro sol.... muchas cosas pasan hasta que ellos se vuelven a encontrar y aclaran las cosas, y demasiadas cosas pasaran hasta que al fin puedan estar juntos como por ejemplo que los dos hermanos (principe y futuro rey) decean la misma mujer.
La historia estara llena de magia, romance, intrigas, envidia, celos...etc pero todo eso es lo que la hace tan buena.El humor también estará presente pues claro como no reírse con estos sirvientes reales.
Me gusto muchísimo la química que había entre los personajes, haciendo que la historia te llegara mas profundamente.
Los besos!!! Estuvieron geniales aunque muy pocos... demasiado pocos... pero hermosos!
Cuando vi al niño converido en hombre el corazon se me salto unos cuantos latidos.....dios santos Kim Soo Hyun se veia demasiado calinte con ese aire de rey... he dicho que lo amo???
Bueno, bueno ya dejo de babaer por mi hombre y aqui les dejo los capis disfrutenlo!!!
Lista de capitulos
Capitulo 1
Capitulo 2
Capitulo 3
Capitulo 4
Capitulo 5
Capitulo 6
Capitulo 7
Capitulo 8
Capitulo 9
Capitulo 10
Capitulo 11
Capitulo 12
Capitulo 13
Capitulo 14
Capitulo 15
Capitulo 16
Capitulo 17
Capitulo 18
Capitulo 19
Capitulo Final